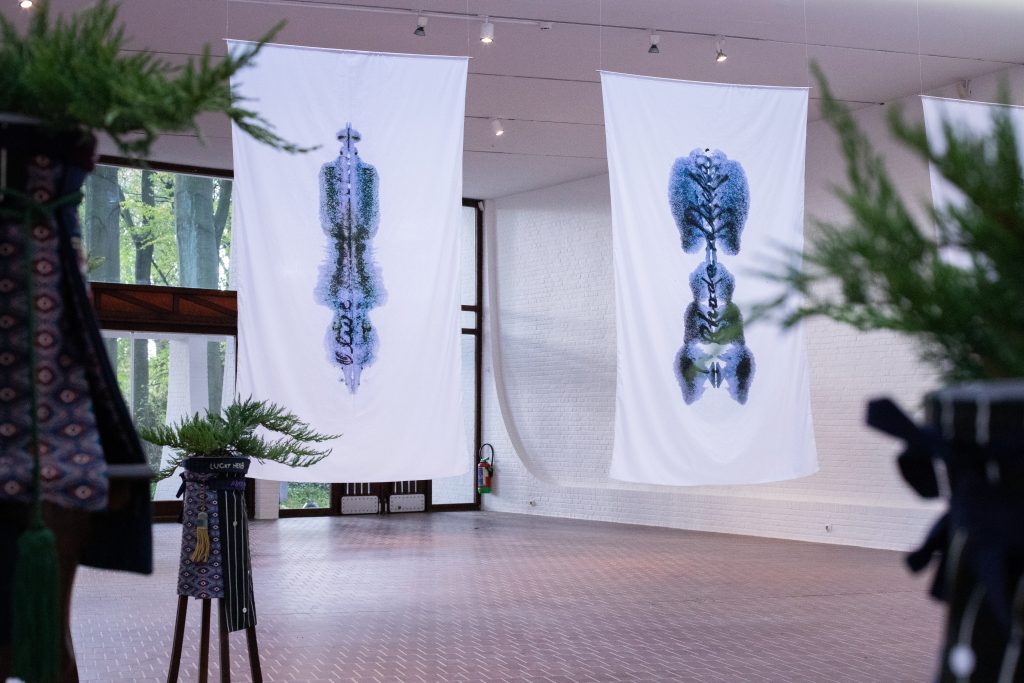 A review by An-Katrien Callebaut
CHAPTER 3: GATHERING / AMBULATORY LIBARIES
Nov 9, 2022 – Middelheim Museum Antwerp
I imagine the park is beautiful all year round, but autumn adds another layer of pure charm. The second day of Rooted Encounters took place in Middelheim Museum, a 30 hectares sculpture park close to Antwerp. Even with a strike from public transport, an intimate group of enthusiasts gathered at the Braem Pavilion. The setting already forecasts a difference from the day before. Perhaps now, it was up to us to connect with the (more-than-human) inhabitants of the park? Find a story?
 The day began with an introduction by Wendy Morris, one of the organisers of Rooted Encounters. She first talked about her artistic research project 'Nothing of Importance Occurred: Recuperating a Herball for a 17th Century Enslaved Angolan Midwife at the Cape'. With the midwife as protagonist, or perhaps more as a thread, she follows colonial histories and female plant knowledge. Through the publication series Fieldguides for a Preternaturalist, she assembles and unites collaborators, readers and audiences in her project.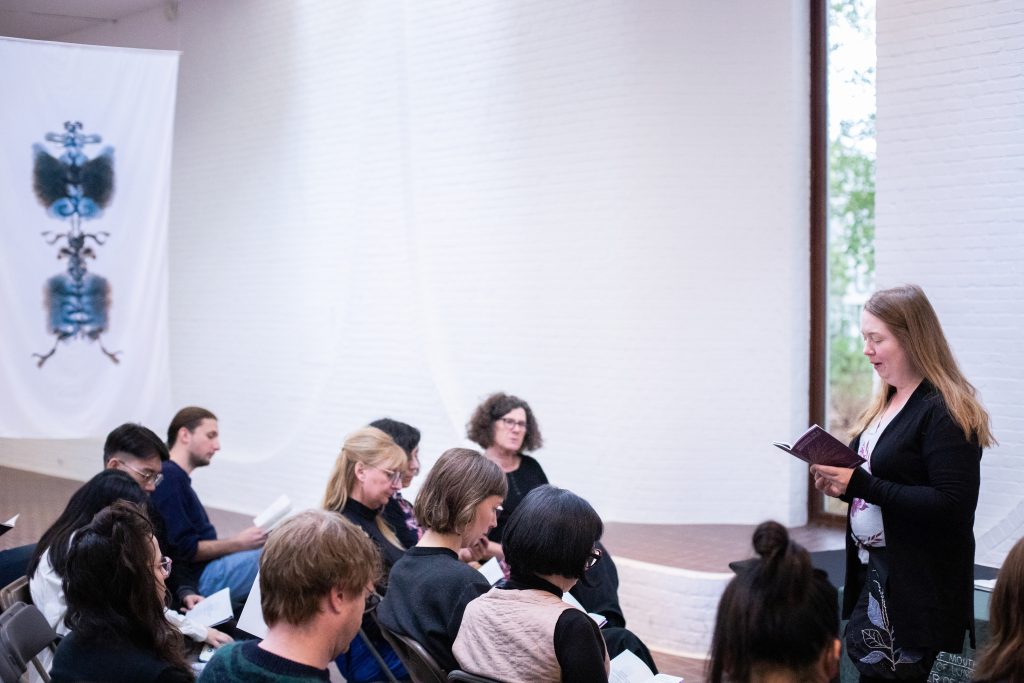 When fifteen different voices began to read Rachel O'Donnell's essay in Fieldguide 2, myself included, it had a collective force. Some stumbled over words. Others mispronounced them. Yet, it felt so instinctive, so organic. The power of storytelling. And it was an important story to tell. A few years ago, Rachel came across the Apacina plant used by the women in Guatemala. With further investigation, she discovered it was used as an abortifacient – though the women she met kept a certain ambiguity about that and instead chose the term contraception. Surprisingly, she didn't find this anti-fertility information on Apacina, or Petiveria alliacea, in archives or records.
During the 19th century, (male) Western explorers and scientists gave little attention or credit to indigenous, and especially female, plant medicinal knowledge. It is only because some botanists included the characteristic garlic smell of Apacina in their plant descriptions that Rachel could deduce that they knew its anti-fertility properties. And even in these notes, there is a lack of respect towards the indigenous holders of knowledge on this plant. Racist remarks on the lustfulness of women using Apacina as an abortifacient were made.
Through Rachel's story, it is clear that there was a hierarchy of knowledge and a force of politics behind it. A phenomenon that continues to exist. When a student asked O'Donnell the day before if there is some new scientific research on the contraceptive process of the Apacina plant, she shook her head. Even though Apacina is used in contemporary pharmaceutics for other medicinal purposes, the role indigenous women gave it is ignored. Up until today. Perhaps we can change that. At least the fifteen voices reading the essay carried the story with them. Each was given a 'pocket' to wear during the reading, each 'pocket' hand-stitched with common names of the Apacina plant.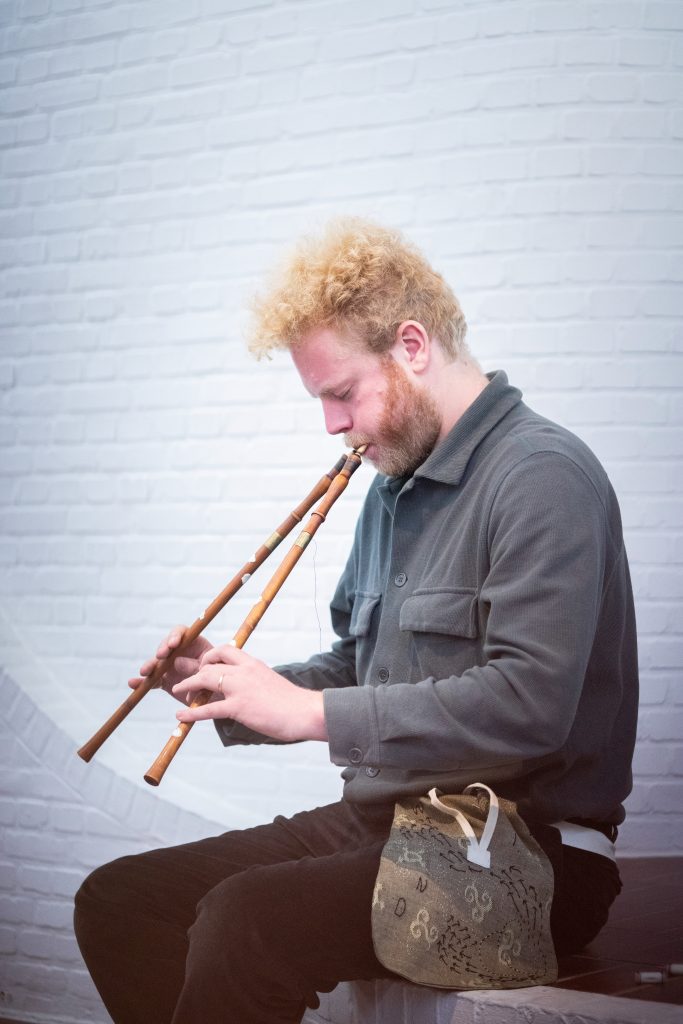 After reading this important story, it was time to heighten our senses. Lukas De Clerck evoked the wind with his composition on the Aulos, an ancient Greek wind instrument. The pavilion was filled with ambient sounds. It was a good moment also to notice and examine my surroundings, which turned out to be an architectural gem. Looking through the many windows of the building, it seemed as if the summoning of the wind worked. Leaves floated, yellow, brown, orange, yellow again…; trees danced; following the rhythm of the wind. (I wished I could describe autumn like Ali Smith.)
We were all eager to go outside when Wendy invited us for a walk. In retrospect, it was more of a procession. She handed out different pots and bouquets of plants. We were asked to look at them, smell and feel them. The pots were covered in a cloth on which Morris had sewed their common names and recipes for use.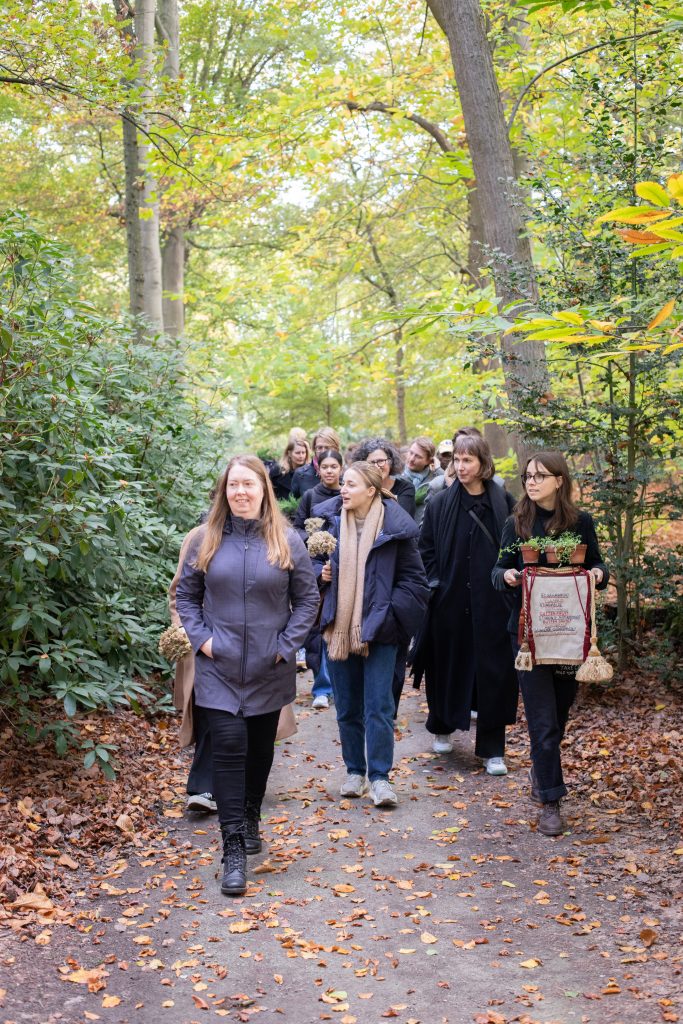 As it turned out, they were also contraceptive plants – savin or 'plant of the damned', chenopodium vulvaria or 'schaamkruid'. After taking formal photographs with the plants and the company, we walked. Our first stop was the 'women's forest'. It was the task of five young women to hand the five bouquets of wild carrot seed – a contraceptive plant still used in many parts of the world – to the five female sculptures.
With it, each of them regained their power, their choice, their knowledge. It almost felt as a holistic ritual. I gave my bouquet to the Pandora statue. The first woman in Greek mythology who was blamed for spreading all sorrows and disasters on earth. Her fate was to be the scapegoat, like Eva. Well, no longer. We continued our procession to a patch of garden within the park, close to another pavilion. Wendy pointed out that most of the plants gathered on this little piece of ground have a history of use as a contraceptive or abortifacient. There were some in the group who recognised other plants or knew other facts about them. It turned into a rich discussion and exchange. In the coming year, Morris will incorporate this small garden site into her artistic project.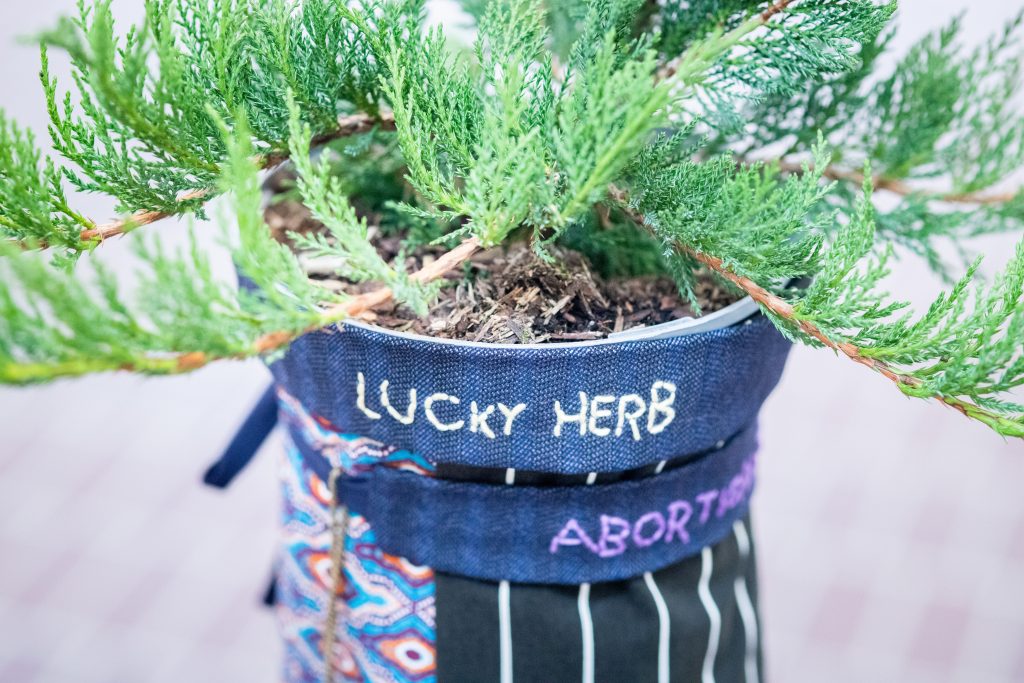 About the author:
An-Katrien Callebaut graduated in 2022 from KU Leuven
with a MA in Art History. She wrote her thesis under the
supervision of dr. prof. Wendy Morris. At the moment, she
is a writing intern for Dutch contemporary art magazine
Metropolis M.